Klaus - Tipman Journey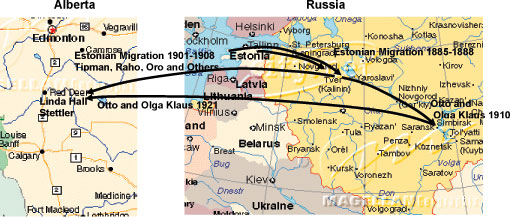 For many of the families living in the Linda Hall area, including the Tipman and Klaus families, the journey to western Canada began with a migration eastward into Russia. Originally living as peasant farmers and fishermen in Nurmekunde and other parts of Estonia, a number of these Estonian families moved to homesteads near Tver in west central Russia between 1885 and 1888. The Tipman and Klaus families were among those immigrants which included families with names familiar to those from the Settler area: Hennel, Oro, Kerbes, Saar, Neithal, Nicklom and Raho. They settled into the typical homesteads of the time - large walled farmyards, recognisable by their central courtyard around which the house, barns, granaries, and hay storage sheds were organised. By the late 1800's there were about 300 families living near Tver in a locality called Branti Mets. The families developed the land and settled into their new community; however, all was not well in Russia. There had been protests against the tsarist regime and rumours of general political unrest began to surface. Young men were to be conscripted into the army, with their families forced to bear the cost of providing their clothing and some supplies. Religious freedoms were being challenged and restricted by the government. This was not the promised land these families had left Estonia for; it was now time to find a new home.
In the late 1800's, the Canadian Pacific Railway began advertising offers of homesteads to prospective settlers in eastern Europe. The Canadian prairies were depicted as a desirable area with a climate and geography similar to the Ukraine steppes. A 160-acre parcel of land could be purchased for $10. Word of the opportunity spread quickly through Russia and the Estonians living near Tver (Branti Mets) also made the decision to leave their now uncertain homeland.
A scouting party, consisting of Mike Raho, John Neithal and John Oro came to Canada in 1901. They met with the Estonians already living in the Medicine River area, near Red Deer, Alberta which consisted of 13 families. The first of these immigrants were brothers Hendrik and Kristjan Kingsep , arriving in 1899. They arranged for the immigration of other families. Raho, Neithal and Oro took out homesteads in the Sylvan Lake/Medicine River area and obtained passage for their families to come to this new land as soon as possible.
When Magnus Tipman and Mike Kudras arrived in 1902, they discovered there were no longer enough homesteads in the Sylvan Lake/Medicine River area to accommodate all the Estonians that wished to immigrate to Canada. They journeyed to Medicine Hat, Alberta to searching for land which would be suitable for homesteads, but found the country too arid for farming. They then discovered a large block of unsettled land near Stettler and in 1904 took out homesteads. They also sent word to the Estonian community that land was available, and provided for passage to their families still living near Tver.
Driven by the same vision of opportunity that had led them to Russia, a large number of the Estonians now decided to migrate to Canada. They sold or left their farms with neighbours and joined the wave of immigrants to Canada. Contact with the relatives who decided to remain in Russia was lost for as much as 80 years and has only recently been re-established.
The remaining members of the Tipman family (consisting of Magnus' two brothers, Johan and Josep and sister Leena) were among the first group to immigrate. They founded their homesteads within a few miles of each other in the Linda Hall area. Names of some of the families that moved to Linda Hall about this time were Alex and Ado Saar, Vilhiem Klaus, two Reinglas brothers, Mikel Kudras, Josep Hennel, Negalts and M. Oliver. A few years later came A. Liiv, Kusick, Johanson, Hans Asberg, Korge, Anthony Kask, Anthony Fridulin, K. Kelu, M. Wagenstein, Jan Kerbes, Gustaf Nicklom, Jaan Saar. Also during this period, the remaining Klaus brothers, Johan, Juri, Alex and Eduard arrived. Eduard married Pauline Neithal shortly after his arrival in Canada.
During 1907 and 1908, a number of the Estonian families that lived in the Red Dee/Sylvan Lake area moved to the Linda Hall area. These were John Oro, John Neithal, Mike Rahu, J. Walt, Wartnow, K. Hennel, and Anton.
Magnus Tipman, with his wife Sophia and eight children, lived at a homestead three miles east and one mile south of Linda Hall. This farm still remains in the Tipman family.
In 1914, Anton Kroon, A. Saar, G. Tipman, Oscar Tipman, Kelu and K. Hennel left their homesteads and moved to Australia. They settled near the village of Gympie, in the Queensland Territory.
Otto Klaus and his family took a longer route on their way to Canada. While Otto's parents and all five of his brothers left Tver for Canada between 1905 and 1907, Otto and his family moved to the city of Simbirsk where they cared for his wife Olga's elderly stepparents. They lived and worked on their stepparent's farm near the Volga River and, for a brief few years filled with hard work, prospered. However the First World War, the famine in Russia, and the communist government all became hardships that threatened his life and the well being of his family - it was time to move yet again. With the help of his brothers already in Canada, he was able to immigrate.
The Otto Klaus family settled near Big Valley in 1922, close to his brothers and their families. He obtained the last homestead available in the area and began the long and difficult task of building a farm by breaking new land. Through a combination of hard work and frugality, Otto and his fellow immigrants eventually achieved the freedom and security they were seeking.