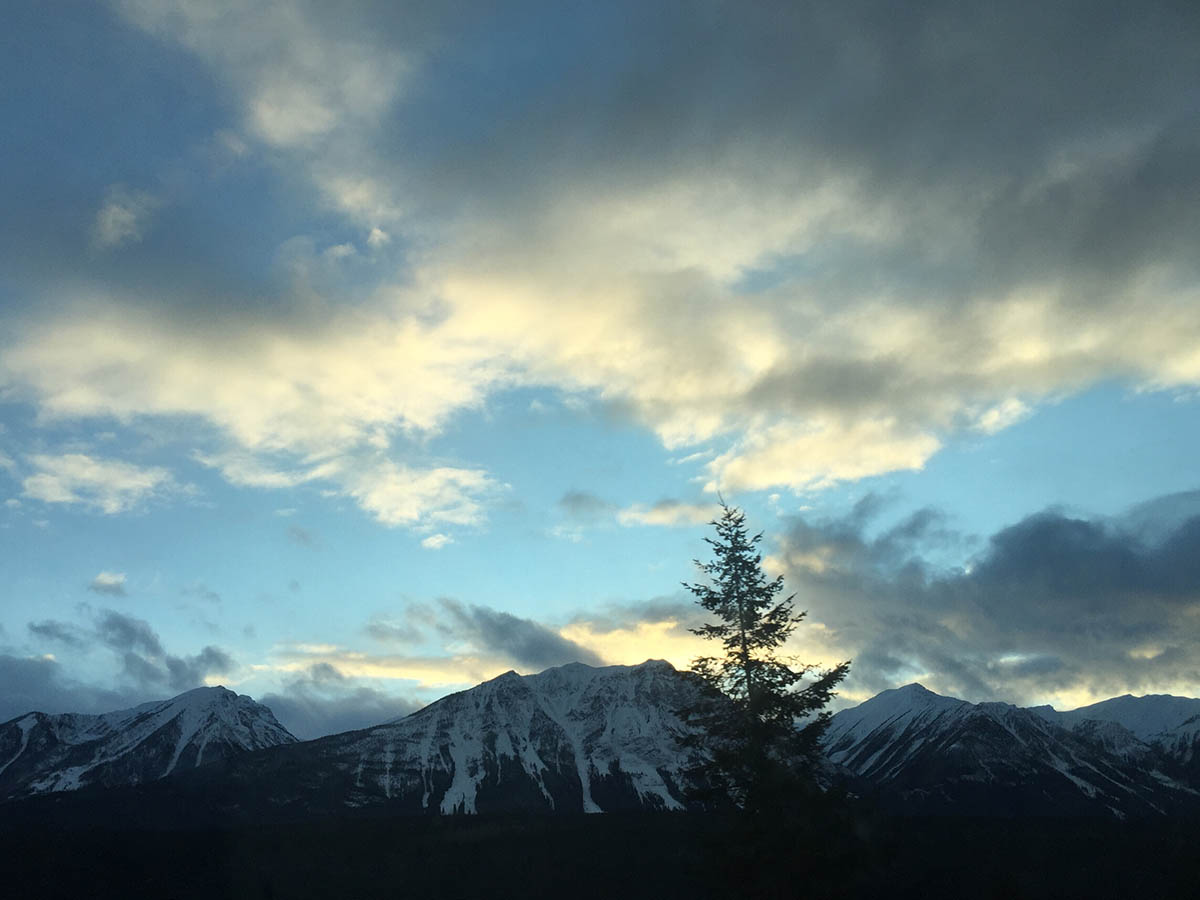 Alberta mountains – image courtesy Amelie Schuler Desnoyers
Celebrating Estonia in Alberta
What happens when you bring Estonians of all ages together to celebrate centuries of indomitable spirit?
Converging the weekend of February 22-23, in commemoration of Estonia's 102nd year since the Declaration of Independence, were the lively Alberta Estonians of the Alberta Estonian Heritage Society (AEHS), celebrating and learning Estonian! Thanks to seed money from the Estonian Foundation of Canada, watered by the outpouring of interest, teaching talents of society members, and beer from Work Nicer Red Mile, a fun and meaningful language course has taken root.
How fortunate are we to be global citizens of the world, from Estonia to Alberta, with such strong connections to our "Maa", our motherland, and our culture. We are grateful to the generous people supporting the Estonian Foundation of Canada and the Alberta Estonian Heritage Society's dedicated members. God bless Estonia and Estonians!  Join us!
– Kelly Schuler, AEHS President
NEW! AEHS Estonian Language Course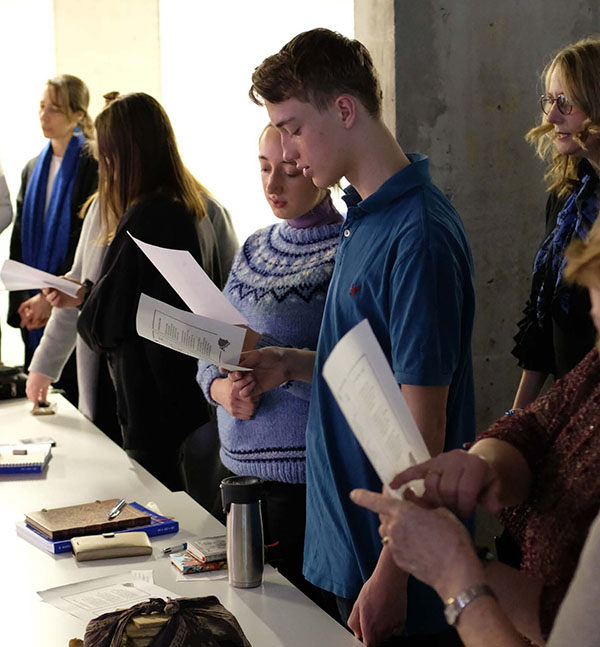 Photo courtesy Wing Man Cheung
Thanks to support of the Estonian Foundation of Canada
Present February 23rd, were AEHS Estonian language course participants from all over the province, including one of our instructors on Zoom in Victoria. A delicious Estonian-inspired potluck followed with much fun and laughter.
The course is fun too. Mall Pesti's Book "E Nagu Eesti" provides the basis for our coursework. Lesson plans are developed and delivered with passion and purpose by the extraordinary community builder, Helgi Leesment and psychologist, Marii-Heleen Motsmees. Classes are delivered online through zoom weekly and monthly in-person gatherings. Participant ages are ranging from 15 to Seniors. Among our 16 students are four sets of siblings, two of those sibling sets each including a parent. Some have rarely heard the Estonian language before, some spoke it fluently in their youth, and some heard it in the family but never spoke it.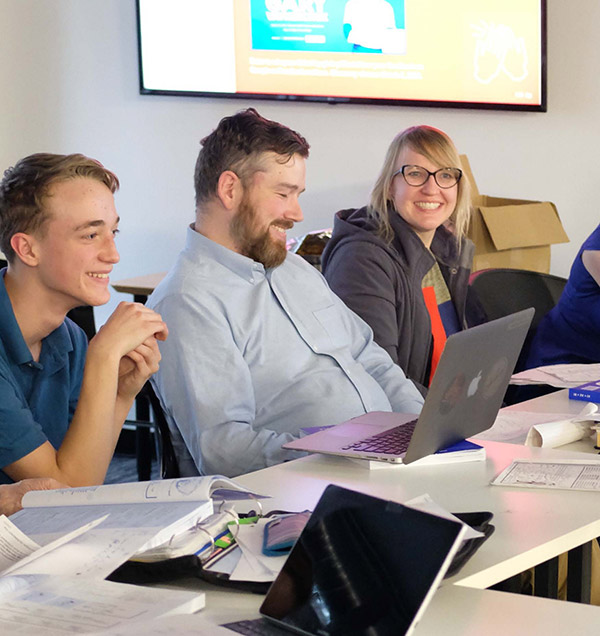 Photo courtesy Wing Man Cheung
"After neglecting to learn Estonian – my father's mother tongue – as a child, I am so grateful to have the opportunity to try and grasp at least the basics of the language through the AEHS Estonian-language course. Learning Estonian is an important way to reclaim my cultural heritage, something easily lost in the 21st-century global village. I hope to continue to pursue Estonian studies to the point I am functionally fluent."

– Kathleen Renne
"Terviste! Here is my comment: Me armastame eesti keele õppimist! Aitäh!"
– Amélie Schuler Desnoyers
"Through this Estonian language course I've found connection with peers, instructors, family and friends! Thank you to Helgi and Marii-Heleen! It can't be easy teaching beginners but you've shown up each week with patience and kindness! Now I should go for a steam! Saun on hea!"

– Scott Waldo Raabis
"Thank you to the Estonian Society for providing this opportunity to try to retrieve our Estonian Language.  Our TEACHERS are AWESOME and patient beyond. 
– Maret Maurison
Estonian Foundation of Canada visits
Board Members join our AEHS Estonian Language Group online and can see the results of their support! Using videoconference technology permits us to include AEHS members from all over Alberta. We were pleased to welcome Estonian Foundation of Canada Board Members: Maris-Ann Vanaselja, Lia Hess and Maret Liik to observe and to help us award a $50 prize to one of our lucky students! We are in the process of planning the next sessions. We were gleefully oversubscribed for the first cohort, which filled up with only the expression of interest from the keen students that started in the first round.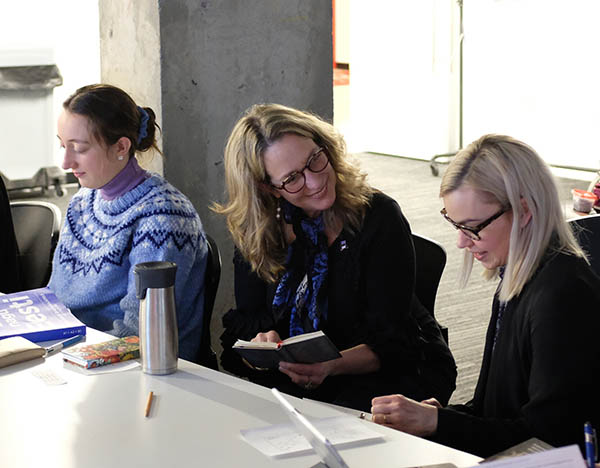 Photo courtesy Wing Man Cheung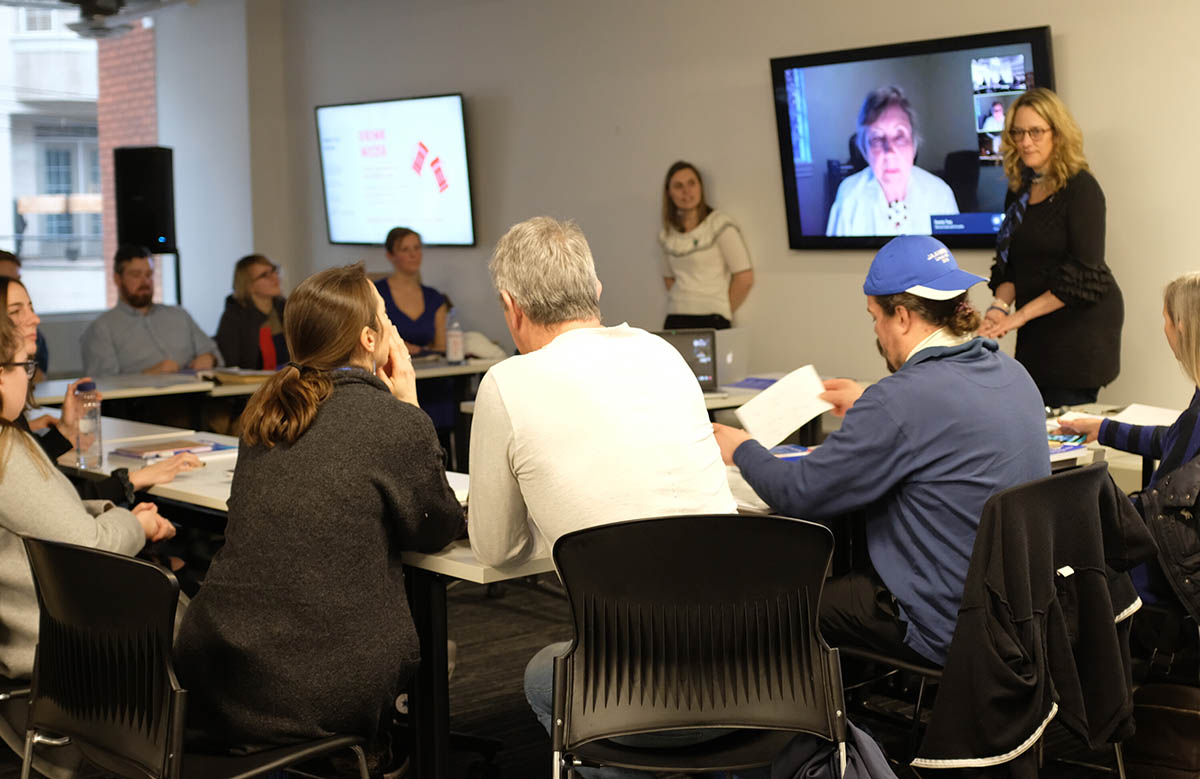 Celebrating Estonia's Declaration of Independence
Thanks to the Fodor Family and ALL who contributed…
It was a full weekend of celebrations! February 22nd, AEHS vice president Evelin Fodor and her family graciously hosted a pot-luck gathering at their home. Ages from baby to grandparents enjoyed the famous and important film "The Fencer" and festivities. Our teenagers acted like little kids again, bouncing a beach ball and laughing, offered by the youngest guest.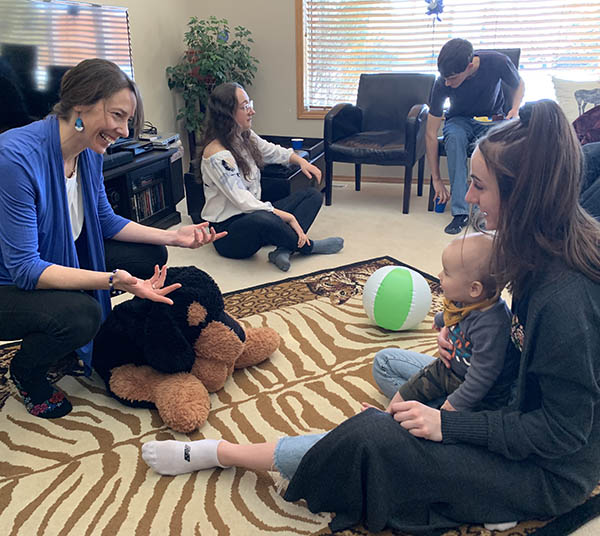 Photo courtesy Wing Man Cheung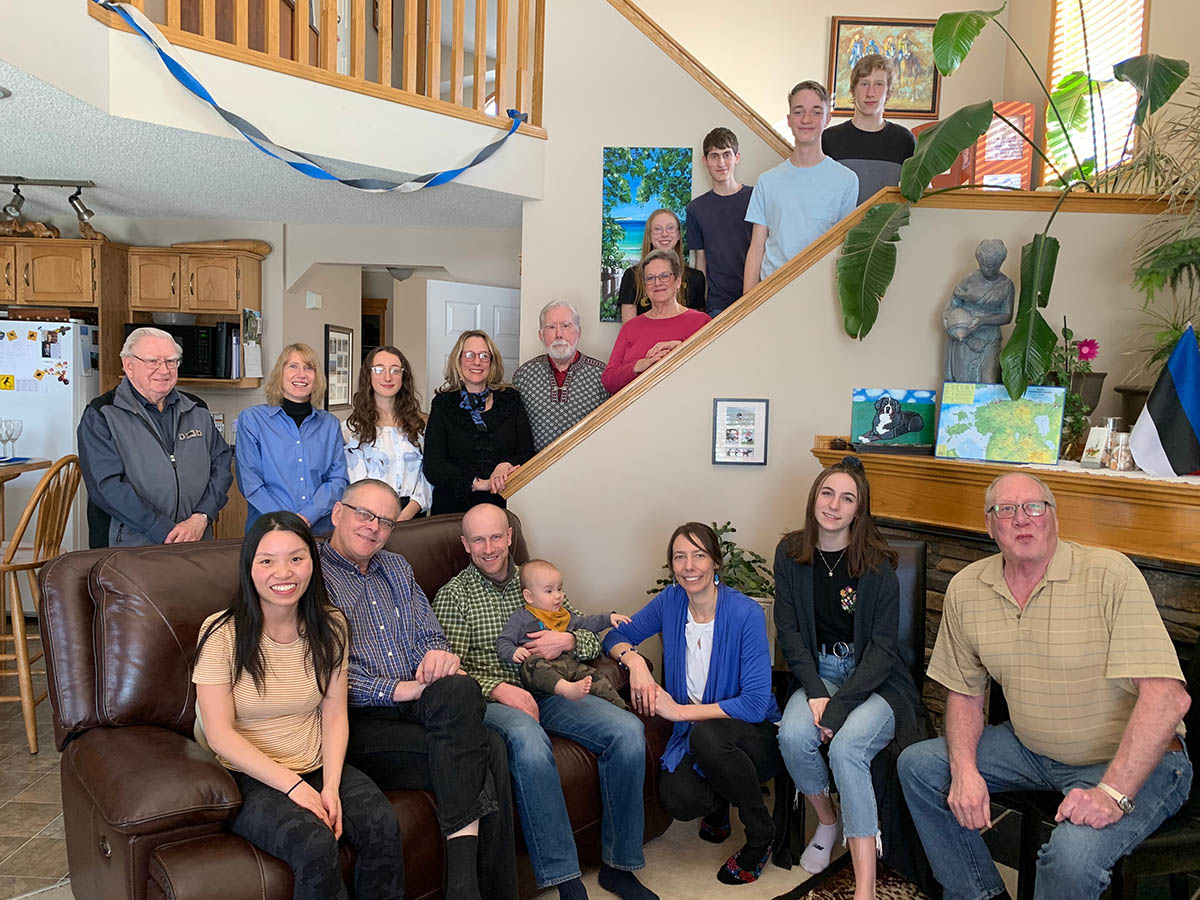 Photo courtesy Steve Fodor
Multicultural Night!
AEHS at the Hitmen Hockey Game
Representing Estonia!
The AEHS, for the second year in a row, represented Estonia at the Calgary Hitmen hockey game for their multicultural night, March 7th.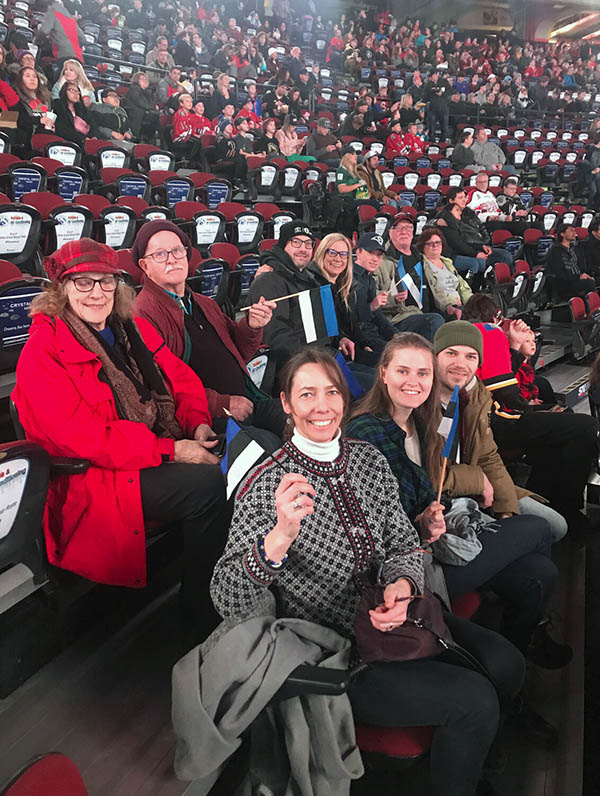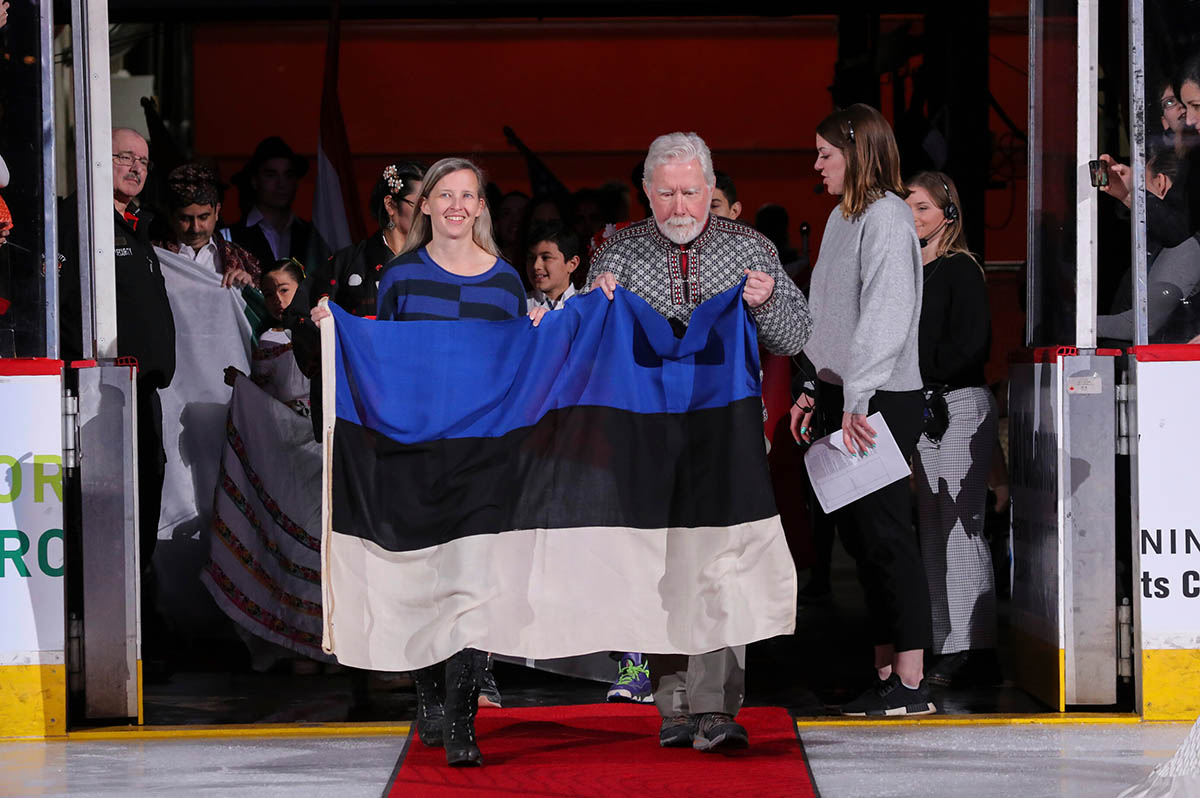 Two proud AEHS Members, Colleen Grivell and AEHS Treasurer Toomas Paasuke, carry the Estonian flag onto the ice. Photo courtesy Calgary Hitmen Photography
Join in the Fun!
Lead organizer of our Jaanipäev event, Hardo Lass, is excited about recruiting volunteers for the team. Jaanipäev 2020 in Alberta is scheduled for the last weekend in June.
Feel free to connect with Hardo and team at: Jaanipaev-at-aehs.ca.
A special thanks to Hardo's talented wife, Wing, who took photos for us to commemorate the occasions  shared in this e-newsletter.
Thanks to the service of our dedicated Executive, Committee and Board Members:
Helgi Leesment, AEHS Language Group Lead
Marii-Heleen Motsmees, AEHS Language Group Instructor
Hardo Lass, Jaanipäev Lead and Board Member
Liisa Tipman, Jaanipäev Children's Games
Scott Waldo Raabis, Jaanipäev Adult Games
Janice Paasuke, Events Coordinator
Marion Collin, Board Member
John Erdman, Interim Board Member
Martha Munz Gue, Board Member
Rein Paasuke, Board Member
Bob Tipman, Board Member
Lorne Hennell, Membership
Toomas Paasuke, Treasurer
Evelin Fodor, Vice President
Kelly Schuler, President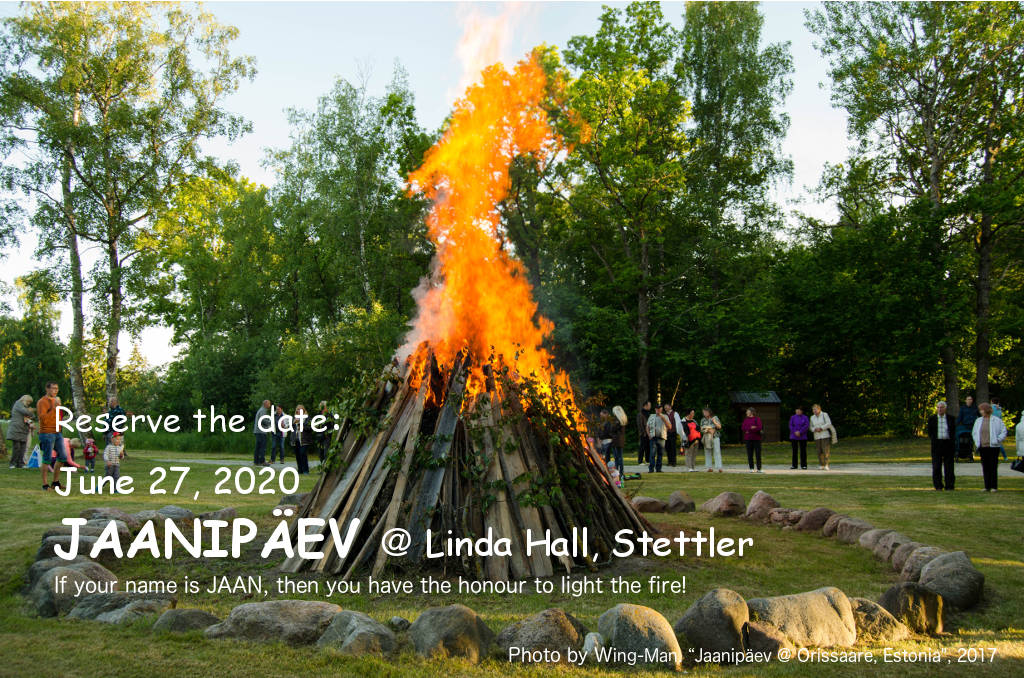 We're hopeful that we will be able to gather together again soon. In the meantime, please consider ways you can help the seniors in our community.
If you are a senior or vulnerable because of the COVID-19 and need assistance, please contact us.