The members of the Erdman family have earned their rightful place in Alberta's history as one of the original settlers of Barons. The Erdmans' story begins with Juri Erdman, born in 1778 in Estonia. Before he died in 1850, Juri married a woman named Madli and together they had three children. One of Juri's grandsons was Jakob who settled on the open plains of southern Alberta in 1904.
Jakob Erdman was born in 1851 in Paide, Estonia. When he was only 10 years old he travelled with his family to Crimea in search of improved living conditions. The Erdmans travelled 2,400 kilometres by foot through the forests of Russia and the Ukraine. Unable to carry food with them, they relied on the generosity of Russian farmers who frequently donated bread and sour milk. Eventually, the Erdman's settled in the small village of Targhan.
Jakob's parents, Jaan and Mari died shortly after they arrived in Crimea. Jakob was then raised by his aunt Madli and uncle Otto Sesler. Jakob married Mari Tint on 1 May 1873; she had also made the trek from Estonia to Crimea 12 years earlier. Generally, Estonians enjoyed their time spent in Crimea, sharing civic and judicial responsibilities. In fact, Jakob was appointed mayor of Targhan twice.
Here, in the more temperate climate of Crimea, Jakob and Mari raised eight children; one died as an infant. All of the Erdman children were able to attend school where they learned a variety of subjects taught in Russian. However, issues of political and economic relevance would soon arise. Wanting to avoid Russian conscription and realizing there was not enough land for all of their children to farm, Jakob and Mari decided it would be best to leave Crimea. Stories of wide, open spaces in North America-spaces ideal for large families-circulated in the community and piqued Jakob's attention. It sounded like a promising opportunity. Together Jakob and Mari, along with seven of their eight children, left on yet another unpredictable journey, leaving their married daughter Emilia behind. They travelled by train back to Estonia and boarded a ship bound for England.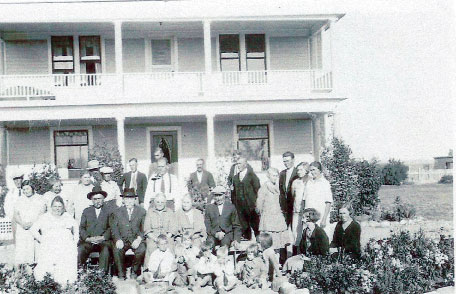 The family arrived in New York City on 4 July 1901 amid jovial Fourth of July celebrations. They quickly boarded a train to Fort Pierre, South Dakota and settled there for 18 months. Dissatisfied with poor crop conditions and severe weather, Jakob and his son Gustav, among other friends and relatives, travelled to Oregon in search of land similar to that in Crimea.
Although the land in Oregon was deemed too expensive, not all was lost; rumours circulated about inexpensive and available land in Alberta, Canada. In 1904, Jakob, Mari, Gustav, and Helena Kotkas settled in Barons, Alberta. Their children Liisa, Robert, Charlotte, and Natalie lived with them. However, Liisa and Charlotte soon moved to Lethbridge where they found employment as housemaids.
Natalie, who later became a missionary in Iraq, graduated from the University of Alberta in 1917. She was one of the first Estonians in Alberta to do so. One year later, Jakob donated two acres of land to a burial ground with free plots for any Estonians.
Jakob's daughter Miina Kulpas became ill and moved to Oregon with her family, convinced the milder weather would be beneficial to her health. Jakob and Mari also went to Oregon and stayed there until Miina's death in 1928. Soon after, they returned to Barons and lived a quiet life on their farm.
Jakob died in 1934 and is buried at the Barons Cemetery. Mari died five years later and is buried next to her husband.